Foundation Replacement in Los Angeles
Don't make the expensive mistake of ignoring foundation repair warning signs. Alpha Structural's in-house engineers and builders offer expert foundation replacements, foundation upgrades and more!
How to Know When You Need to Replace Your Foundation
Most types of damage to your home's foundation can be repaired using various industry-standard techniques. But there are some situations where the deterioration is so bad that the cost of repairs could end up being the same or even greater than the cost of replacing the entire foundation. And in some cases, it simply can't be repaired at all.
Initial Warning Signs:
Sloping or sagging floors
Visible cracks in ceilings
Gaps appearing between walls and floors
Walls beginning to lean or bow
Floor cracks appearing
In situations where a foundation has sustained extreme damage and cannot be easily repaired, foundation replacement is no longer an option: it's a necessary requirement for maintaining the strength and durability of your home. This could be the result of a catastrophic scenario, such as an upper-magnitude earthquake, or sudden erosion due to unexpected flooding.
Solving these problems is how we became known for the kind of foundation repair Los Angeles homeowners can trust.
Southern California has seen its share of earthquake damage to foundations, and few structures in the area were designed with flooding in mind—so when the rain does come down, it can be disastrous for the structural integrity of your home.
More commonly, the need for a complete foundation repair is the unfortunate result of incompetent engineering, shoddy original workmanship, or a corrupt contractor who knowingly ignored fatal flaws just to save dollars.
Common Examples of Damage that Could Mean Replacement Is Needed
Poorly compacted soil base, causing the existing foundation to sink or shear
Large and excessive number of cracks
Unusual or unsound building materials used in the original construction
Cheap, low-quality concrete mix used in pouring the foundation
The foundation was not allowed to cure long enough, leaving it porous and prone to damage
Voids or hollow spots in the foundation
Extended exposure to water, moisture or frost
An interrupted pour creating an unintentional "joint" in the concrete
The foundation was constructed out of materials such as brick, stone or other masonry which has not been reinforced
Some forms of damage and deterioration are not visible to the naked eye, which means there's no way to detect them without a thorough inspection by a licensed professional. Our expert foundation replacement techniques are predicated on years of experience and accreditation.
If the inspection reveals that foundation replacement is not necessary in your case, you're in luck! Our wide range of foundation repair services at at your disposal to ensure you get the highest-quality result for the best price.
General Description of the Replacement Process
Once an in-depth foundation inspection has determined that replacing the entire foundation is the correct strategy, the process begins to replace the existing foundation. Every house presents its own unique set of problems to be solved, but the following is a general outline of the techniques we use to replace a foundation:
The first step is to shore up the house. This is done carefully and precisely in order to prevent damage to the house in the form of unwanted cracks to walls and ceilings. While it may be necessary to raise a house entirely off of the existing foundation, it is not usually needed to elevate the house very much, if at all. The important point here is to transfer the weight of the structure to temporary shoring so that the existing foundation is no longer doing any load-bearing.
Removing the old foundation is a relatively simple procedure, because most older foundations do not include any form of steel reinforcement. And furthermore, if the existing foundation was too difficult to remove, it wouldn't need to be replaced—it would only need to be repaired.
A trench is dug underneath the house to allow for a new footing to be constructed. The depth of this footing will depend on the size of the house, how many stories it has, and the weight of the materials used in constructing the house.
New treated lumber is installed as needed, to provide firm anchoring material for proper foundation bolts.
A system of rebar steel reinforcement is inserted throughout the trench, including the new bolts, and wooden forms are built to receive the concrete.
The concrete is delivered to the job site by a concrete truck and pumped directly into the forms. Concrete must cure slowly to reach proper strength, and we never rush this important step of the overall process. The new foundation is allowed to fully cure, sometimes for up to 2 or 3 days before the wooden forms are removed.
Once the forms are removed, the structure is attached to the new foundation.
City inspections are always done at the appropriate steps according to building codes and local ordinances to ensure everything is done properly.
How Long Does it Take?
Every house is different, so it's difficult to provide a single time frame that applies to every situation. A large house with unpredictable and dangerous problems could require several weeks of work. At the same time, foundation replacement for a small 2-bedroom house could be completed in as little as a week or so. If you are concerned about the length of time it could take to replace your foundation, the best thing to do is to call us so we can give you a better time estimate.
Is Foundation Replacement More Expensive than Foundation Repair?
Not necessarily. There are some scenarios where the cost of foundation replacement is actually less than the cost to attempt an extensive repair.
The cost of replacing a foundation varies widely depending on the size and construction of the house.
Again, every home presents its own set of unique situations and circumstances that need to be addressed, and there's no way to put an exact price on what it will cost until a full and detailed inspection has been completed.
The most important thing to remember is that you don't want to leave your home in the hands of an unreliable contractor. Our innovative foundation replacement techniques set the standard for Los Angeles foundation repair. Contact Alpha Structural today to schedule an foundation inspection or request an estimate.
Foundation Replacement Gallery »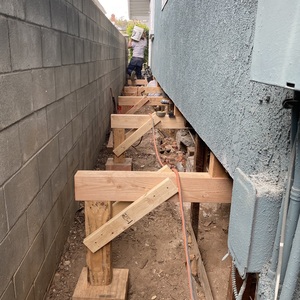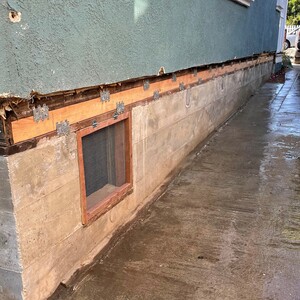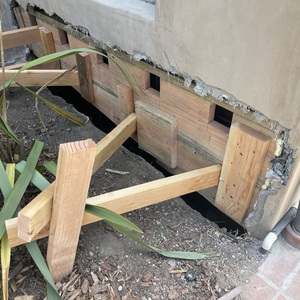 The following list represents just some of the types of foundation repair we specialize in: