Subterranean Waterproofing
If your subterranean parking garage at your commercial property or office building is displaying water damage, then you might want to consider getting professional waterproofing. In addition to helping address the current damage, waterproofing can also help secure your property from future water damage.
Commercial properties in urban areas, often have parking garages with multiple levels. It's important to note that if water damage happens to one level, it will not remain isolated – the seepage will continue and it will impact the other levels as well. Water damage, quite in addition to impacting your parking garage, can potentially weaken your foundation structure.
In seismic zones with hilly terrain such as in Los Angeles County, the danger of water damage is often magnified since structures are often built into the grade.
Such structures are vulnerable to water damage – this is especially true if drainage and waterproofing were not done by professional experts. For these reasons, it is important that you contact professional waterproofing experts at Alpha Structural for your subterranean waterproofing requirements.
Do I Need Subterranean Waterproofing to Prevent Water Damage?
Inadequate or unprofessional waterproofing can cause your subterranean parking garage to suffer from visible leaks and in worse cases, even leave you with pooling or standing water. If you have a water leak, it can often show up as slight discoloration on the surface of the garage walls. As professional waterproofing experts, we would strongly advise you to have your parking garage inspected or evaluated as soon as you notice even minor discoloration of walls.
If left unaddressed, over time, your minor water leaking issue could worsen. It could also lead to significant amounts of water entering through the cracks in the garage walls or via the floor slabs. When this happens you could be left with a parking garage with standing water. As a commercial property owner, the last thing you want is to have your occupants walk through standing water when using your parking garage or to have water dripping onto parked vehicles.
Water damage in your parking garage could also lead to potential structural damage to other areas of your building due to the moisture within the walls themselves.
The best way to deal with your water damage issues is by partnering with professional Los Angeles subterranean waterproofing experts who can effectively assess the damage and work with you to design and implement customized repairs to address the issue on hand and prevent future water damage.
Water Damage In Your Subterranean Parking Garage – What You Need to Know
If a building is a new or relatively new construction – discoloration or staining of the garage walls without the actual presence of moisture might have happened during the construction process. A repair protocol in this case will simply involve professional cleaning of the water stain. If however, the stains reoccur, especially after heavy rainfall, then it could be due to actual leaks in the structure.
When your garage walls display very minor amounts of moisture (sufficient to discolor the walls but not enough to collect on the garage floor), then one of the most common ways of addressing the issue would be by using a waterproofing product. Alpha Structural waterproofing experts will recommend the appropriate waterproofing material that is specific to your requirement.
In case your water damage has been caused by substantial leaks in the garage walls and floors, then a more specialized and advanced waterproofing program will be designed and implemented. In addition to immediately halting water intrusion wherever it occurs, your waterproofing experts will plan and implement a repair protocol to completely seal the leaking walls or floor segments from any visible moisture.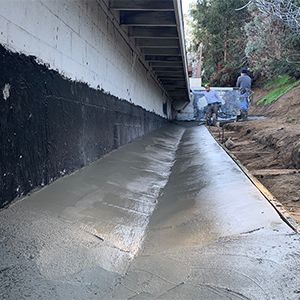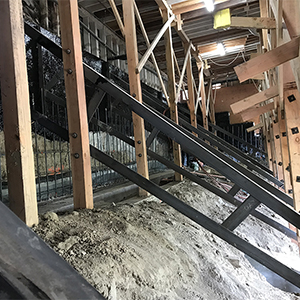 How is Subterranean Waterproofing Done?
Water damage can impact building structures differently – the type of construction, the materials used, the terrain, and the general layout of your property and parking garage are all contributing factors. For this reason, at Alpha Structural, we focus on customized waterproofing that is designed and implemented to address not only the current water damage but also to keep water from penetrating the garage walls and floors in the future.
The first step involves assessing water damage. This process entails tracking the source and duration of the water damage, evaluating the type and degree of water leaking (minor or substantial leaks), and looking for other signs of water damage both to the parking garage and other parts of your building structure. Once this is done, your waterproofing experts will design a repair protocol to effectively address your water damage.
Why Choose Alpha Structural for Your Subterranean Parking Garage Waterproofing?
If your waterproofing material is flawed, then designing and implementing a repair program can be challenging. In commercial buildings with parking garages that are just one level below grade – addressing water damage may involve soil excavation at a specific side. However, if your parking garage extends several levels below grade, then the leaks will have to be addressed from the inside of the garage.
Regardless of the magnitude of your water damage, the one thing you absolutely need is the services of waterproofing experts who know what they are doing and have the requisite experience to deliver high-quality subterranean parking garage waterproofing.
As a premier commercial waterproofing expert, Alpha Structural has been serving clients across Los Angeles and the Southern California region for more than two decades. So when you contract with us, you can rest assured that you will have the kind of expertise and experience you can trust and depend on for your commercial property parking garage waterproofing.
Do you need professional waterproofing for your commercial property subterranean parking garage? If yes, then call us at (323) 300-2184 or visit us online at Alpha Structural to schedule an appointment with our experts today!
Alpha Structural - The Best Subterranean Waterproofing Los Angeles Has to Offer
If you notice water on the walls of your subterranean parking garage, one of the first things you need to do is to contact a waterproofing service with the necessary expertise in both assessing waterproofing issues and implementing an effective waterproofing program.
Alpha Structural is a highly reputed and dependable name when it comes to providing commercial property owners in Los Angeles and across the Southern California region with quality-based waterproofing services.
So, if you are looking for the best waterproofing services for your subterranean parking garage, then contact us at (323) 300-2184 to schedule an inspection or request an estimate. You can also visit us at Alpha Structural today.
The following list represents just some of the types of foundation repair we specialize in: