Hillside Repair & Landslide Repair
in Los Angeles
Alpha Structural is the top hillside repair contractor in Los Angeles, offering slope repair and slope reinforcement.
In Los Angeles and Orange Counties, many hillside homes were built in the 1950s and 1960s with deepened foundation systems that were deemed to be deep enough to withstand earthquakes and weather storms. However, structural failures during El Nino winters and major earthquakes forced the necessary changes to the more stringent foundations seen today.
Due to heavy rain, shifting soil and other factors are common in the hillside areas of Los Angeles and surrounding areas. Slope repair and hillside repairs are very important in maintaining the structural integrity of your structure and property. Steep slopes, tension cracks, recent erosion, abnormal curvature of trees & their roots can be indicators that a slope is in need of reinforcement. Take action before more significant shifts in the soil cause damage.
Hillside & Landslide Repairs
What might surprise you is that your home may be zoned under hillside ordinances requiring specialized foundation repairs. For example, the "Baseline Hillside Ordinance" was adopted to establish new regulations that protect hillsides and the surrounding communities.
That's where we come in and design, engineer, and repair your structure. At Alpha Structural, we excel in "difficult jobs" with steep hillsides or limited access. Our team and crews are highly trained for hillside and landslide repairs devising solutions specific to any home or hillside structure.
Things that we can do to reinforce hillsides and slopes:
Retaining Walls
Concrete Reinforcement
Drainage
Friction Piles
Benching
Retaining walls can stabilize the slopes surrounding your property. If your hillside home has steep slopes on either side, retaining walls will stabilize the slopes. The walls are constructed to hold or retain a large amount of soil. We can install retaining structures such as caisson-mounted walls, conventional walls, or gravity walls.
When it comes to drainage, we draw up plans to decide on which type of systems such as surface drains, terrace down drains, or French drains will be best for your building. The problem with excessive water in slopes is that it adds weight to the soil in the slope making your property vulnerable to the mass movement of the soil. Excessive water can also reduce cohesion between particle grains and cause runoff in slopes expanding erosion. This applies pressure on the supporting structures, which makes them liable during storms or earthquakes. Drainage repairs will carry water away from the slopes while making sure the stability of the slope is solid.
Friction piles are run into the ground to stabilize a structure with lagging or panels between them and form a retaining wall. This prevents the soil from moving downward. Benching can be used to divide the slopes into smaller and less steep ones.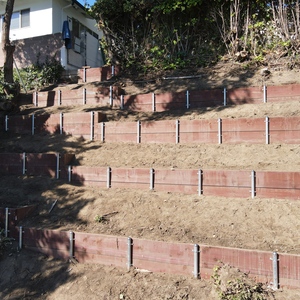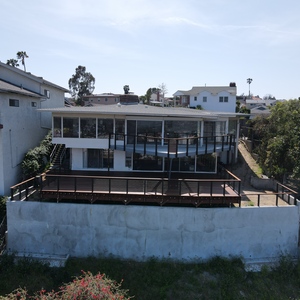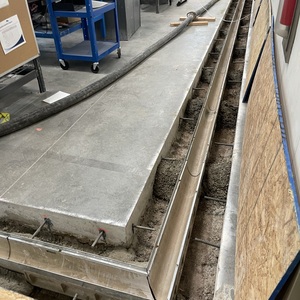 Reasons for Hillside & Landslide Repairs
Earthquake: a major earthquake can make your home unsafe and susceptible to damage. Living in the hills means your home has been created by tectonic activity building up the terrain through the ages. According to the Pacific Earthquake Engineering Research Center, the Northridge earthquake of 1994 affected approximately 10,000 hillside homes, of which 374 were damaged severely.


Landslides and mudslides: Southern California has prolonged periods of drought, so when it does rain, hillside properties are prone to mudslides. And without proper foundation support, these homes can be unsafe


Legal: You could be liable for damages that may be caused by unstable soil on your property


Safety: a heavy rainstorm or fires that destroy plant life on a hill can make your home vulnerable to landslides and erosion of soil


Value: A retaining wall can add value to your home, including having more usable space for parking, gardens, and other recreational reasons


For all these reasons, it is imperative that you make sure the foundations of your home are secure, including retaining walls anchored to bedrock if possible. One effective way is to use caissons and grade beams. Caissons involve drilling a deep hole and placing reinforced steel into the ground before pouring new concrete. Also known as piers or drilled shafts, caissons can hold heavy, concentrated loads and provide structural support for hillside retaining walls.
Classifications of Slope
You will need a company like Alpha Structural that is familiar with the details of city ordinances, some of which prohibit the construction of new structures on extreme slopes. Classifications determine whether you are allowed to renovate and expand the square footage of your home. Strong or severe slopes could limit your options and may prevent you from increasing your "maximum residential floor area."
Here are certain classifications specified by city ordinances regarding the degrees of slope:
0° – 8.5° Flat to Moderate Slope
8.5° – 16.7° Strong Slopes (true hillside)
16.7° – 24.2° Very Strong Slopes
24.2° – 31° Moderately Severe Slopes
31° – 45° Severe Slopes
45° or greater Extreme Slopes
An extreme slope of greater than 45° will require a Geotechnical Investigation Report, soil and/or geological report that must include the most stringent level of geotechnical analysis and reporting feasible, and in sufficient detail to substantiate and support the design and construction methods being proposed.
Alpha Structural: Leaders in Hillside Repairs
Alpha Structural, Inc. is a recognized leader in the engineering and construction of foundation and hillside repairs. In the Los Angeles and surrounding areas, Alpha has set the standard when it comes to providing the best hillside repairs, one of our many specialties.
Utilizing our decades of foundation repair and seismic retrofitting experience, we design and engineer a way to offer the best value while providing top-notch service. When it comes to hillside and landslide repairs Los Angeles based Alpha Structural is highly qualified with extensive experience. Our team will find the best solution for your specific home and help you change the slope of your property.
Call us at (323) 300-2186 for an assessment of your building's unique needs and help you take care of your hillside repairs today.
The following list represents just some of the types of foundation repair we specialize in: