Soft Story Retrofitting Torrance
A soft story building is a multi-story structure built with a first floor that is much less rigid (soft) than the floors above. A building with a weak first floor often have large openings underneath like a garage, large overhang or windows or tuck-under parking. These bottom floors are not likely to withstand the pressure of significant seismic activity due to unreinforced openings on the ground floor and the lateral forces that push a structure from side to side.
A major earthquake will likely cause far more movement than the soft story building can withstand resulting in the upper floors collapsing on top of the first floor and large openings. A soft story retrofit program would address the issue of properly strengthening soft story buildings.
Soft Story Retrofitting Torrance
While the City of Torrance drafts a mandate for compulsory soft story retrofitting, building owners have already started taking initiative by contacting one of the most trusted names in the field of seismic reinforcement. At this time Torrance soft story retrofit upgrades are performed on a voluntary basis however, the city is providing multiple resources for earthquake hazard reduction to encourage property owners to decrease the risk of damage and promote life safety in commercial buildings and multi-family dwellings.
A proposed ordinance will likely closely follow initiatives undertaken by other local municipalities that have taken a proactive approach to earthquake safety with the goal to protect people and minimize damage of vulnerable buildings in the event of a major earthquake.
According to notes from a council meeting on May 15, 2018, there are between 2,500 and 3,000 soft story buildings in Torrance.
A soft story retrofit usually takes us 1-4 weeks depending on the scope of work involved.
How Will This Soft Story Retrofit Law Affect You?
It is no longer a question of whether or not there will be an earthquake of significant magnitude in Southern California – the issue is WHEN it will strike SoCal. The longer your soft story building goes without retrofit, the more potential something disastrous could occur. We are prepared to assist you in all phases of the retrofitting process. Completion of this structural reinforcement could result in a lower insurance premium and, depending on current incentives, you may be eligible for grants, tax breaks and financial aid to help you upgrade your building.
Why Alpha Structural For Soft Story Retrofitting?
Alpha Structural, Inc. is a leader in the field of soft story retrofitting having received numerous awards for their excellence in work and customer service. In 2018 alone, Alpha Structural was recognized for its excellence in customer service winning The Talk Award and Pulse of the City Award. They have received the Angie's List Super Service Award for over 8 years straight and been recognized as one of the fastest-growing private companies by Inc 5000 and the Los Angeles Business Journal. They have further received commendations and certificates of recognition by many cities in the Los Angeles area.
One of our specialties is to bring a building like yours up to par with today's strict building codes. We will carefully inspect your building and isolate the most practical and cost efficient solution. Utilizing our decades of foundation repair and seismic retrofitting experience, we design and engineer to help you save on construction costs.
Our team evaluates each building individually with some common solutions being steel moment frames and plywood shear walls (strengthening existing walls), which adds proper support to the soft story structure against seismic activity. Every property is unique and that means all soft story retrofitting in Torrance must be customized for each individual building. At Alpha Structural, we will design, engineer, acquire the correct permit and retrofit your structure, all in-house.
Our team is highly-qualified with extensive experience in complex soft story retrofitting in Torrance, Los Angeles, and other surrounding cities. Call us today at (323) 258-5482 to schedule a soft story building inspection!
Soft Story Retrofitting Gallery »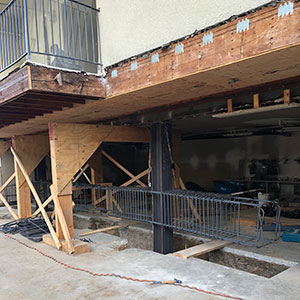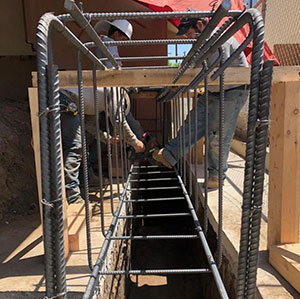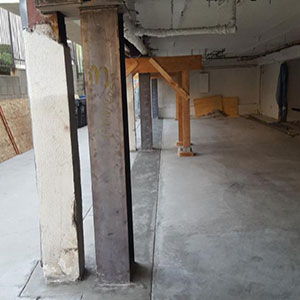 The following list represents just some of the types of foundation repair we specialize in: